Jewish facilities in eight states, the District of Columbia and Toronto were the target of threats today, including bomb threats to the Anti-Defamation League's (ADL) offices in Atlanta, Boston, New York and Washington.
Even prior to these incidents, the ADL had tracked 122 bomb threats so far this year.
This sparked every member of the United States Senate to sign a letter to Homeland Security Secretary Kelly, Attorney General Sessions and FBI Director Comey to "underscore the need for swift action."
It has become clear that threats of violence against individual JCCs are not isolated incidents. According to the Jewish Federations of North America, in the first two months of 2017 alone, at least 98 incidents against JCCs and Jewish Day Schools at 81 locations in 33 states have been reported. . . . We are concerned that the number of incidents is accelerating and failure to address and deter these threats will place innocent people at risk and threaten the financial viability of JCCs, many of which are institutions in their communities.
The Trump administration can and should respond more forcefully to address the surge in anti-Semitism, especially since they had a role in stoking it to begin with.
January 16 Press Conference: Trump Claims He's Least Anti-Semitic Person
Trump shut down a question from an Orthodox Jewish reporter on the rise anti-Semitic attacks with the following bold declaration:
Number one, I am the least anti-Semitic person you've ever seen in your entire life.
Putting aside the fact that he was the first President to issue a statement on Holocaust Remembrance Day that made no reference to Jews or anti-Semitism, Trump's campaign alone demonstrates that he frequently stoked anti-Semitism through dog-whistle comments.
The Past is Prelude: Scenes from the Trump Campaign
(1) January 22, 2016: Trump Retweets Neo-Nazi "White Genocide"
WhiteGenocide was a Nazi sympathizer and white supremacist.  As explained by Fortune Magazine:
Trump neither explained nor apologized for the retweet and then, three weeks later, he did it again. This subsequent retweet was quickly deleted, but just two days later Trump retweeted a different user named @EustaceFash, whose Twitter header image at the time also included the term "white genocide."
(2) March 26, 2016: Trump First Invokes "America First"
In a New York Times interview, Trump firmly declared "I"m America First".  A theme he would continue to invoke throughout the campaign and even his inaugural address.  America First, however, was the Nazi-leaning, anti-semitic isolationist campaign led by Charles Lindbergh.
From The New Yorker
On September 11, 1941, Lindbergh gave a speech to a huge crowd in Des Moines, in which he described the agitators for the U.S. to enter the war. There were three groups: the British, the government, and "the Jewish race." "Their greatest danger to this country lies in their large ownership and influence in our motion pictures, our press, our radio, and our government," he told the audience.
(3) July 2, 2016: Trump Retweets Hillary Star of David Image
The image came from the anti-Semitic Twitter user who produced content such as this: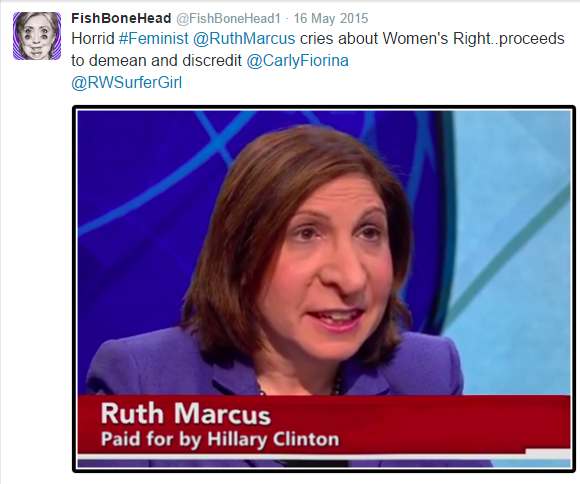 (4) October 13, 2016: Trump Speeches Include Dog Whistle Term – "International Banks"
He expanded on this point in a way that evoked language used by Hitler.
| Trump Language (2016) | Hitler Language (1933) |
| --- | --- |
|  "This election will determine whether we're a free nation, or whether we have only an illusion democracy but in are in fact controlled by a small handful of special global interests rigging the system, and our system is rigged." |  "The struggle between the people and the hatred amongst them is being nurtured by very specific interested parties. It is a small, rootless, international clique that is turning the people against each other, that does not want them to have peace…They are the only ones who can be addressed as international, because they conduct their business everywhere, but the people cannot follow them." |
International banks or bankers is "a vintage anti-Semitic trope" according to Forward. The Anti-Defamation League immediately called out Trump's speech for what it was.
Trump's dog whistles appeared to energize his anti-semitic supports, to the point that one of them sent the following message to a Politico reporter days later.  It was one of hundreds received by Jewish reporters during the campaign.
Reporters were not the only targets, as actress Emmy Rossum received the following tweet after Trump's election victory.
It is no wonder that a columnist for the Israeli newspaper Haaretz called Trump's win- "the Greatest Victory for anti-Semitism in America Since 1941".
So . . . least anti-Semitic?  I don't think so.